The Wake Forest Chapter of Women In Networking and its many women members love working in the community in the Wake Forest and surrounding Raleigh-Durham area, and lending our skills, time and expertise whenever we can. WIN participates in many civic and charitable events and welcomes you to join our organization and enjoy the many services and opportunities we provide.

The Women of WIN pose to show that the Wake Forest Coffee Shop matters! #thisplacematters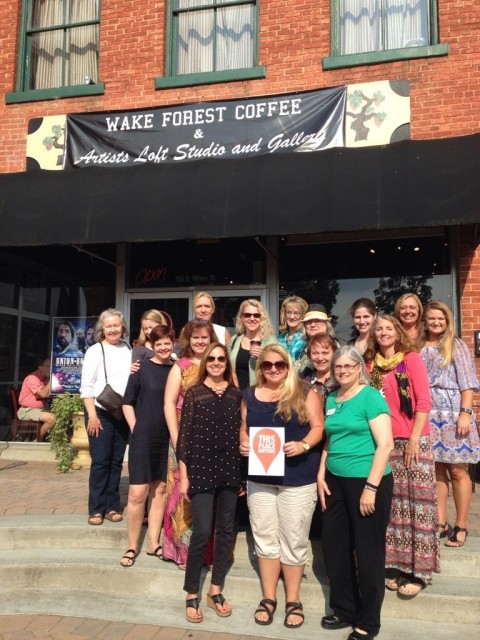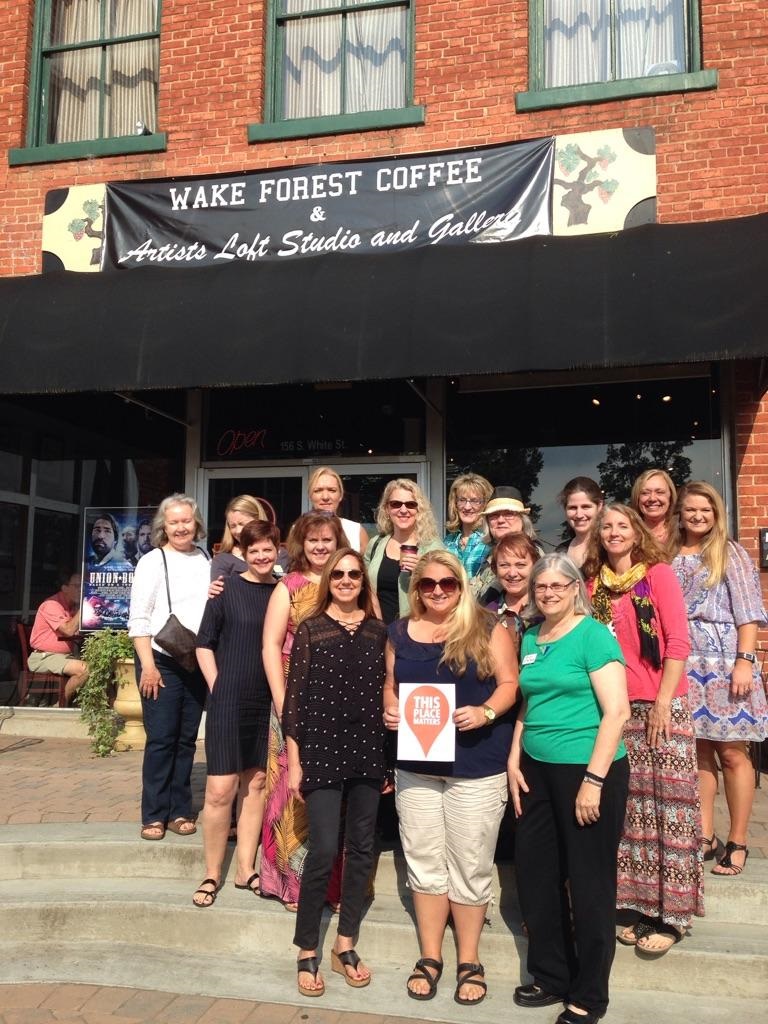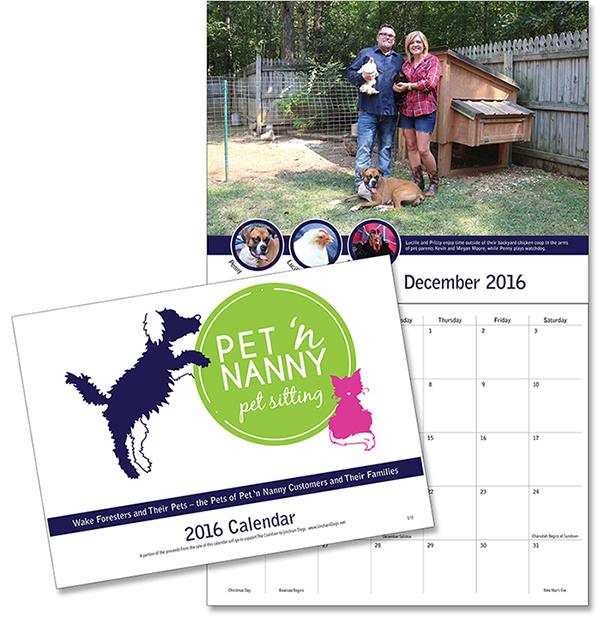 Buy a Calendar, Help a Pet!
Join us Thursday, November 12 from 6-8pm for our Pet 'n Nanny Calendar Unveiling Party! It will be located at Communicopia, 135 S. White Street, in historic downtown Wake Forest. Enjoy free drinks, appetizers and desserts and meet some of the pet parents featured in the calendar, which will be available for purchase.
When you buy this 2016 calendar of local pet owners and pets, a portion of proceeds go to the local non-profit Coalition to Unchain Dogs. The Coalition helps improve the welfare of dogs and their living environments.
Calendars are $10 and can be purchased at the party. If you cannot make it to the party but still want to purchase a calendar, please contact Shannon @ 919-539-3748 or via email: shannon@petnnanny.com
Cooking with Barbara is holding a Help Whip Cancer® fundraiser for Renewing You®. Renewing You® is a local business that provides a collection of skincare products that will heal and soothe your skin for those with the common side effects associated with radiation and chemotherapy treatment. Renewing You® is proud to support the Pretty In Pink Foundation and a portion of their proceeds will go back to Pretty In Pink to help both men and women with their treatment of cancer. This foundation provides financial assistance and support to uninsured and underinsured North Carolinians.
This event will be held October 19th at 6:30 p.m. at the Lennar Model Home located at 1116 Virginia Water Drive, Rolesville, NC
www.pamperedchef.com/pws/barbaratimmons/guest-landing/8933888539803
When: October 19, 2015
Time: 6:30 p.m.
Location: Lennar Model Home
1116 Virginia Water Dr.
Rolesville, NC 27571
                  C'mon out, taste some delicious recipes and Help Whip Cancer!!!!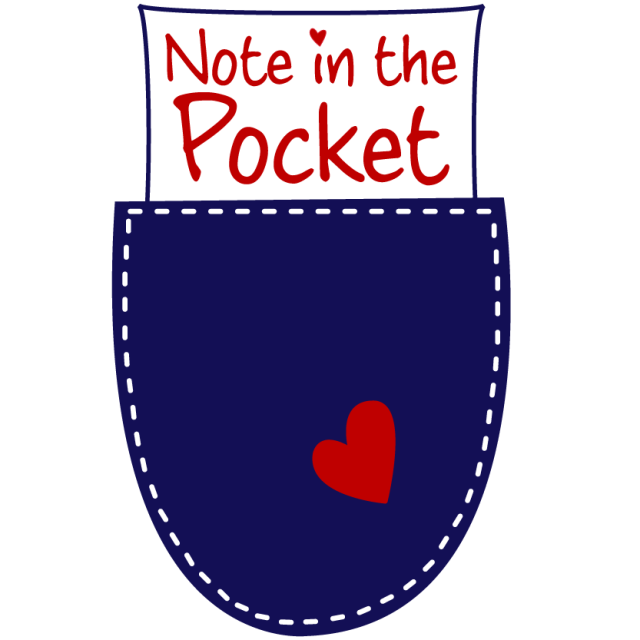 Note in the Pocket needs our help!  
We can't get our new donations on the shelves as fast as they are flying off the shelves so….
We need lots of hands tomorrow 10/15 and Friday 10/16 between 10:00 and 2:00 to help us power sort/QC and stock much needed school clothes!
If you can sort clothes from home – please stop by today, Thursday or Friday (call or email to check someone is here) and pick up clothes to power sort from home so we can easily find needed boys/girls clothes to shelve next week.
If you are able and willing – please consider purchasing some of the following emergency sizes….
BOYS:
Size 5 bottoms (jeans, long pants, sweatpants, etc)  Size 7 bottoms  Size 8 long sleeve tops (shirts/sweatshirts/pullovers) and bottoms  Size 10 tops and bottoms  Size 12 tops and bottoms  Size 14 tops and bottoms  Size 16 tops and bottoms
GIRLS:
Size 10 long sleeve tops
Size 12 long sleeve tops
Size 16 tops and bottoms
Size 18 tops and bottoms
If you are able to clean out your children's closets (K-12 sizes) please just send fall and winter new or like new clothes. We always need good quality short sleeve tops and shorts but we sorting clothes that are obviously not school appropriate really slows us down when we are this busy.
Thank you for all you do for these sweet children!
We are so proud to have so many finalist and winners in the Best of the Best.   Here are some of the many business owners that made the cut.   Congratulations to everyone!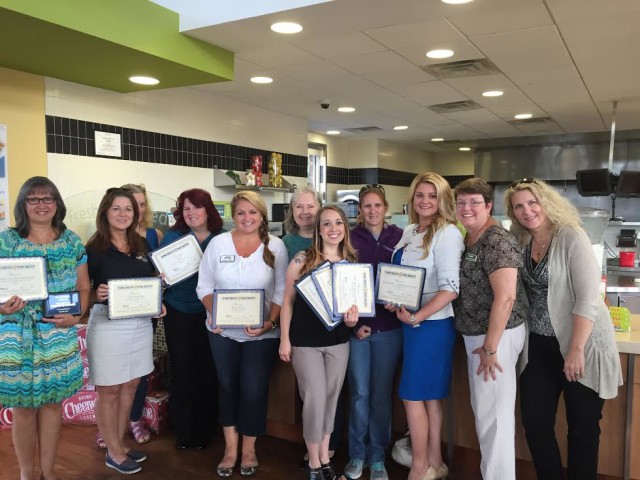 Our WIN Wake Forest Chapter collecting socks and other goodies for Note In Pocket charity. Our ladies are so awesome in helping provide new items and these will go a long way in helping a child in our community.  — with Linda Willis, Wendy Kurczak Darby, Leslie S. McMillan, Barbara Lamphier Kingrey, Scottie Gregory Hundley and Kristen Frybort.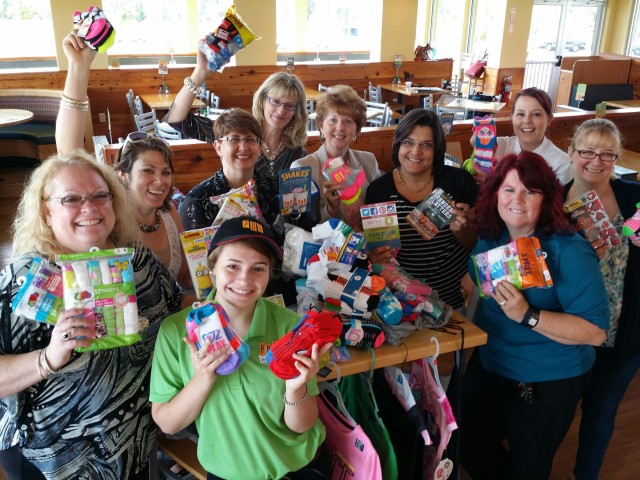 Briony Voorhees did a fantastic job sharing the history of how the charity got started as well as showing us how we can help.   The three ways we can help the most are by 1) Fundraising  2) Volunteering  3) Donations of Clothing.   The group was very engaged and it was easy to see how many partnerships are possible to get the community involved so it's going to be very exciting over the next year to see the overall impact of the group with our new charity seat partner
Great Job Briony!!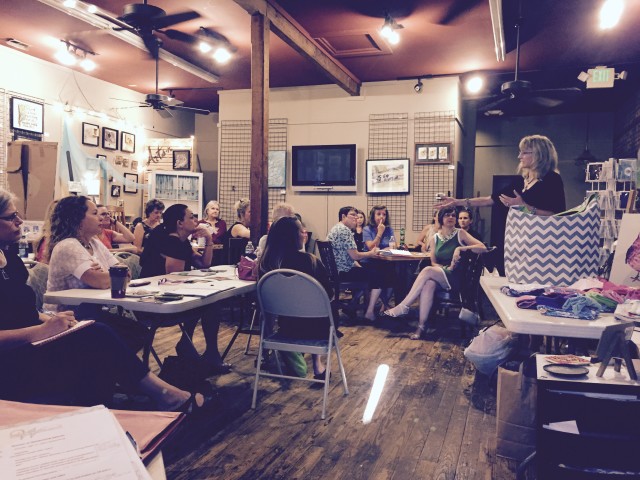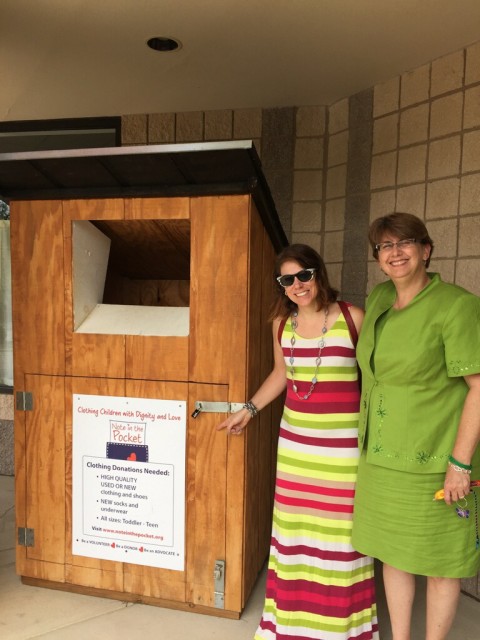 We at Wake Forest WIN are very excited to partner with "Note in the Pocket" this year. Leslie McMillian and Wendy Darby toured their Newton Road location this week. They were very impressed with how organized the process was. Briony Voorhees showed them how donations were processed. Everything is weighed for grant tracking purposes. Then it is sorted according to Boys, Girls, Women, and Men. "Note in the Pocket's" main mission is to supply school clothes to underprivileged children. But the non-profit often sees to the needs of entire families from guardians to infants. Anything that is donated that can't be used for their mission will be consigned to support the operation costs, sent to other non profits, or sent to the baler's to be cleaned and re-purposed as rags. Nothing is wasted; everything is appreciated.
The clothes go through a second sorting according to size. Then they are neatly folded and shelved to make it easy for "puller's" to fill the needs of individuals when requests come from social workers or schools. A special "Love" note is carefully placed in a pocket with each donation to let the recipient know that their community cares for them.
Volunteers can register on their site at http://www.noteinthepocket.org/register-to-volunteer/. There are many ways we can help out. We can volunteer to sort, make phone calls, make delivery's, make donations, and help with events or fundraisers.
"Note in the Pocket" will be moving to a larger location in September. So stay tuned to learn more about their new opening celebration in October and some fun ways to partner with them in the upcoming months. If you can't wait, register at their website, http://www.noteinthepocket.org/, and jump right in.